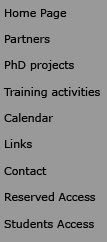 Academic partners


The SyMBaD network comprises 23 teams from 6 academic centres (Bordeaux, Alicante, Milan, Geneva, Göttingen, Bristol) representing an important fraction of the leading European researchers in the field

The teams are internationally recognized, highly qualified and in many cases employ cutting-edge technologies and emergent techniques. Synergies and complementarities between the research teams are already evident and will develop further through the SyMBaD network.

The participants are already well integrated in European scientific collaborative networks, and have an outstanding track-record of training young researchers.



Private companies


Industrial partners and SMEs will participate as full or associate partners to host Early Stage Researchers (ESRs) for at least 6 months within the framework of collaborative projects with academic teams.

These companies are
- either involved in the development of new therapeutic strategies to combat brain diseases in which synaptic dysfunction is established (GSK, Neurosearch, Noscira)
- or involved in developping molecular tools (Bioxtal) or imaging techniques (Amplitude Systems, Explora Nova, Lilly) to be used in synaptic research and beyond.
Partner institutions
website
Scientific in charge
email
Academic partners

University of Bordeaux, France

www.inb.u-bordeaux2.fr

Christophe Mulle

mulle@u-bordeaux2.fr

University Miguel Hernández, Alicante
Spain

www.in.umh.es

Juan Lerma

jlerma@umh.es

University of Bristol,
United Kingdom

www.bristol.ac.uk/neuroscience/

Zafar Bashir

z.i.bashir@bristol.ac.uk

University of Geneva
+ Lausanne (EPFL)
Switzerland

www.neurosciences-fondamentales.unige.ch

Christian Lüscher

Christian.Luscher@medecine.unige.ch

Universität Göttingen
Germany

www.eni.gwdg.de

Stefan Eimer

seimer@gwdg.de

University of Milan,
Italy

www.unimi.it

Monica Di Luca

monica.diluca@unimi.it

Private partners
Neurosearch A/S,
Denmark

www.neurosearch.com

Lars Christian Ronn

lcr@neurosearch.dk

GlaxoSmithKline,
UK-China

www.gsk.com

Jill Richardson

Jill.C.Richardson@gsk.com

Noscira,
Spain

www.noscira.com

Miguel Medina

MMedina@noscira.com

Amplitude Systems,
France

www.amplitude-systemes.com

Eric Mottay

emottay@amplitude-systemes.com

Explora Nova,
France

www.exploranova.com

Christophe Ranger

christophe.ranger@exploranova.com

Lilly-UK
www.lilly.co.uk
Keith Philllps
phillips_keith_geoffrey@lilly.com
Bioxtal,
Switzerland

www.bioxtal.com

Etienne L'Hermitte

elhermite@bioxtal.com