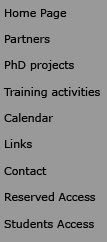 Contact Scientific coordinator
Dr. Christophe Mulle CNRS

University of Bordeaux, France

christophe.mulle@u-bordeaux.fr


Project manager
Dr. Antonella Caminiti
University of Bordeaux
Institut Magendie
146 rue léo Saignat
33077 Bordeaux Cedex

tel : 00 33 5 57 57 36 17
fax : 00 33 5 57 57 36 18

antonella.caminiti@u-bordeaux.fr

http://www.symbad.eu/
Application procedure

Who is eligible ?


- They can be nationals of any country other than the country of the premises of the host institution where they will carry out their project.

- They must not have resided or carried out their main activity in the country of the host for more than 12 months in the 3 years immediately prior to their recruitment.

- Their application should go through the selection process (i.e. be selected by the Steering Commitee).


The selection of the Early Stage Researchers is now closed and 23 young researchers have been selected by the Steering Committee to join the SyMBaD research and training programme. They started their research activity in October 2010.