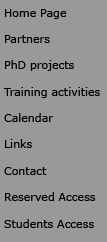 Applications are closed..
The program started on the 1st of December 2009 and finished on the 28th of February 2014.

SyMBaD ("Synapses: from Molecules to higher Brain function and Diseases") deals with the study of synapses and extends from molecules through higher brain function to diseases.

The SyMBaD international and research program is part of the Marie Curie Initial Training Network. It particularly aims to better understand the structure and function of the synapse in the normal and the pathological brain.

Rationale
Brain diseases represent a considerable social and economic burden in Europe. Emerging evidence indicates that synaptic dysfunction is associated with the majority of neurological and psychiatric disorders. Novel therapeutic approaches rely on a better knowledge of the synapse and its pathologies. To challenge social and economic burden of brain diseases in a highly competitive environment, the network aims to fulfil an urgent need to train a new generation of European researchers and increase knowledge in the field of synapse and synapthopaties.

The SyMBaD program aims to
- teach very sophisticated techniques required in Neurosciences and to advance towards novel therapies
- focus on technological innovation and multi-level approaches
- facilitate constructive interactions between the academia and the industry in Neurosciences.

The SyMBaD program offers PhD students
- an outstanding training in scientific basic research in academic laboratories
- the possibility to apprehend research in private companies for at least 6 months
- network-wide training activities (workshops and summer schools)
- and the possibility to integrate European and International collaborative networks.

Members of the SyMBaD consortium
- 6 academic centres : Alicante (SP), Bordeaux (FR), Bristol (UK), Göttingen (GE), Lausanne/Geneva (CH), Milan (IT)

- 8 private companies (Amplitude Systèmes-FR, Aptuit-IT, BioXtal-CH, Explora Nova-FR, Femtonics-HUNG, GSK-UK and GSK-China Noscira-SP, Lilly-UK).

SyMBaD makes European Neuroscience more attractive to young scientists.
It catalyzes multi-level collaborations and fosters intersectorial exchanges to advance in the study of some of the foremost Health issues of the European Community.

23 PhD students have been recruited in the programme for 36 months as Early Stage Researchers and started their research in autumn 2010. They come from 14 countries: 9 EU (France, Germany, Greece, Hungary, Italy, Poland, Portugal, Spain, United-Kingdom) and 5 third countries (Brazil, China, India, Korea, Sudan). The SyMBaD network includes also 9 associated PhD students, hired by local partners.